Locations Langnau Jazz Nights
Public Transport
The Langnau Jazz Nights are accessible by public transport. Both the Kupferschmiede and the Viehmarktplatz are just a 5 minute walk from the train station.

SBB timetable (timely concert end not guaranteed).

Friday and Saturday night there is also a Moonliner connection to Bern (01:12 from Langnau station, arrival 02:07 Bern station).
Parking
The Kupferschmiede is located directly next to the hockey stadium. Around the stadium you will find public and chargeable parking spaces.
Kupferschmiede Langnau (concert hall)
Kupferschmiede
Güterstrasse 20
3550 Langnau i. E.
Box office
from 6:00 pm
Restaurant Kupfergabel/Bar
from 6:00 pm
Door concert hall
8:00 pm
Start concert
8:30 pm
The main concerts of the festival take place at the concert venue Kupferschmiede. The first concert starts at 8.30 pm; the venue however already opens its doors at 6pm. The restaurant 'Kupfergabel' pampers its guests with a delicious menu and an elegant yet casual setting. There are several bars which serve a wide range of drinks and snacks to visitors.
Off-Festival Krompholz stage Viehmarktplatz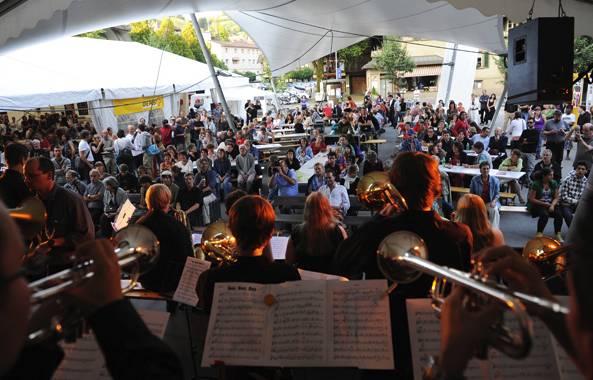 The Viehmarktplatz (town square) already gets busy in the afternoons. Numerous music fans arrive at the square to be part of the Langnau Jazz Nights off-festival events (starting at 5pm): workshop-concerts, the Junior Jazz Meeting and other concerts. A variety of food stands offer a vide range of international dishes to visitors. The whole off-festival area is covered, so no need to worry about bad weather!
Concert at the Protestant Church
As part of the Langnau Jazz Nights al concert takes place at the Protestant Church on Saturday afternoon. The acoustics and the setting of the church help create a unique atmosphere and an unforgettable event for musicians and visitors.
Reformierte Kirche
Bärenplatz
3550 Langnau i.E.
Box office
4:30 pm
Start concert
5:00 pm
Wine cellar (Vinothek)
Have a glass of wine and listen to jam sessions at Walter Schmocker's wine cellar (Vinothek).
Walter Schmocker Weine
Kirchgasse 9
3550 Langnau
Opening hours during the festival (Tue-Sat)
5:00 - 7:00 pm